Update 13/07/2015
I first started training with Leon back in June 2013.
I needed a PT to get me fit and ready for Tough Mudder in August, and Leon got me over the that Wall, but that wasn't the end, the more results I saw each week the more driven and motivated I became. With such an Awesome trainer in Leon by your side, helping and guiding your progress each week, how can you expect not to be motivated. With discipline and guidance from Leon I lost 30kg and Leon got me on stage in a bikini for the first time ever at the age of 47!  Leon will give you the tools you need to live a better and healthier life, no matter what your desired goals are. With the best Personal Trainer Leon by your side sharing his passion for fitness and zest for life you can't go wrong.
Leon is my mentor and I highly recommend Body By Leon.
[av_hr class='default' height='50' shadow='no-shadow' position='center' av_uid='av-3ww2t8′]
Update 18/04/2014
Check out Sandy's progress… amazing effort!!
Walking through work smelling the HotCross Buns cooking the 100's of Easter Eggs going through the checkouts It's very hard not to be tempted but than going through my photos during lunch and seen how far I've come over the last 10 months all thanks to my Awesome PT Leon Asn Stensholm he has given my life, health and myself back and I THANKYOU, so No I don't want any chocolates this Easter
[av_hr class='default' height='50' shadow='no-shadow' position='center' av_uid='av-28cib0′]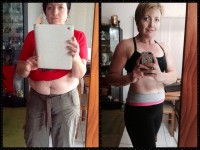 Over the last 12 weeks Thanks to Leon I now know that you Have to Eat real food and exercise to lose weight. No miracle pill or shake will do it for you. I work full time and I'm a 47 year old Mum of 4 and a Nana to 5 beautiful Grandchildren, I was busy getting out of shape, now I'm busy getting into shape thanks to Leon's coaching my life has completely turned around I feel that I have been awaken from a 20 year long Nana nap. I've built a stronger mind a stronger body and a stronger life all thanks to Leon. I now know much more about how strong I am both physically and mentally and I am achieving goals in both my career and personal life. You are never to old or it's never to late to start to get that body you have always dreamed of, I am Eternally grateful too you Leon
Thank you
Sandy