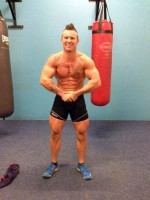 So I get constant enquires on bulking up..I hate that word,can you grow and stey lean??
Im not your traditional 90-100kg bodybuilder, I weigh a lousy 79-80kg but I slowly increase my food weekly. This keeps body fat reasonable for off season, strength increases and an increased metabolic capacity.
Yes defiantly you can hold an ok condition,here is my off season currently with carbs just above 400g,protein at 220g and fats at 90g..im far from stage condition but point is you don't need to blow out to gain muscle… Body by Leon athletes all hold great off season condition!